February 7–10, 2014
St. Croix Renaissance Carambola Beach Resort & Spa
St. Croix, U.S. Virgin Islands
2014 Meeting Information
Please direct inquiries to Meeting Coordinator Jacob Burks, M.B.A.
2014 Invited Speakers
"Visualizing the Complexity of Microbial Communities"

Gary G. Borisy, Ph.D.
Senior Research Investigator
The Forsyth Institute
Gary Borisy is best known for his research directed at understanding how cells crawl, how they divide and how they acquire their shape, all fundamental processes underlying cell function in health and disease. He discovered tubulin, the protein subunit of which microtubules are comprised and contributed fundamental insights into our understanding of the mitotic spindle and the motile lamellipodium. He developed novel techniques for imaging fluorescent molecules in living cells and for correlating their distributions with electron micrographs of the same cells. Recently, he has begun a new line of investigation exploring the structure of microbial communities through combinatorial labeling, spectral imaging and metagenomics. His current research focus is on visualizing the oral microbiome.
After receiving his Ph.D in Biophysics from the University of Chicago in 1966, Dr. Borisy did postdoctoral study at the Medical Research Council Laboratory of Molecular Biology in Cambridge, England. He joined the faculty of the University of Wisconsin in 1968, rising to full Professor in 1975 and Perlman-Bascom Professor of Life Sciences and Chairman of the Laboratory of Molecular Biology in 1980. He moved to Northwestern University in 2000 as the Leslie B. Arey Professor of Cell and Molecular Biology, Distinguished Investigator in the Feinberg Cardiovascular Research Institute, and also served as Associate Vice President for Research until 2006. He served as President and Director of the Marine Biological Laboratory in Woods Hole, MA from 2006 through 2012.
Dr. Borisy has served on numerous panels for the National Institutes of Health, American Cancer Society, Howard Hughes Medical Institute, Novartis Foundation, as well as Scientific Advisory Boards, Editorial Boards, Professional Society Committees and as a member of the International Selection Committee for the Japan Prize in Biology.
He is a recipient of numerous awards including an NIH MERIT Award, the Carl Zeiss Award from the German Society for Cell Biology, the Distinguished Alumni Award from the University of Chicago, and the E.B. Wilson Award from the American Society of Cell Biology. Dr. Borisy is a past President of the American Society for Cell Biology, a Fellow of the American Association for the Advancement of Science, an elected member of the American Academy of Arts and Sciences and the U.S. National Academy of Sciences. He has authored or co-authored over 225 papers with more than 22,000 total citations.
"A view to a kill: The bacterial Type VI secretion system"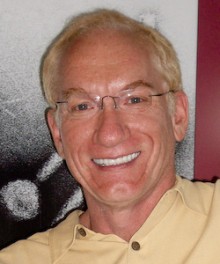 John J. Mekalanos, Ph.D.

Professor

Leman Professor and Chair, Department of Microbiology and Immunobiology

Harvard Medical School
John Mekalanos is the Lehman Professor at Harvard Medical School and has served as Chair of the Department of Microbiology and Immunobiology since 1996. Dr. Mekalanos has received many honors, including election to the National Academy of Sciences and American Academy of Microbiology, the Eli Lilly Award, AAAS Newcomb Cleveland Prize, and City of Medicine Award. This year, he was chosen as the first recipient of the Drexel Medicine Prize in Infectious Disease and received the Sanofi-Institut Pasteur Award for Biomedical Research. He has been a member of the FDA Advisory Committee on Vaccines and Related Biologics and has consulted for numerous governmental and private agencies including the National Institutes of Health, the World Health Organization, The International Vaccine Institute, the National Academy of Sciences, Massachusetts Public Health Biological Laboratories, and the US-Japan Cooperative Medical Science Program. His research spans multiple facets of bacterial pathogenesis with an emphasis on using genetic and functional genomic approaches to explore virulence gene regulation and host-pathogen interactions. His laboratory has provided many genetic tools that have been successfully used in the field for decades, establishing fundamentally new approaches to understanding bacterial virulence from the gene to the genomic levels. Dr. Mekalanos and his research team have provided classic insights, such as the identification of the regulatory factors that control production of both cholera toxin and the intestinal colonization factor TCP, identification of the filamentous bacteriophage that carries the genes for cholera toxin, development of reporters for virulence gene expression in vivo, and identification of small molecules that inhibit virulence. More recently, the Mekalanos laboratory reported the discovery of the Type VI secretion system and has made dramatic progress in defining how this novel organelle dynamically functions. His group has contributed to the development of prototype vaccines effective against cholera, typhoid, anthrax and other encapsulated microorganisms, as well as to finding evidence that bacteriophages control cholera epidemics in natural endemic settings. Click below for more information on Dr. Mekalanos and his lab:
Dr. Mekalanos' Faculty Profile
Dr. Mekalanos' Lab
About the Oral Immunology/Microbiology Research Group
The Oral Immunology/Microbiology Research Group (OIMRG) had its first meeting in 1991. It was founded as a means of promoting intimate, collegial interaction and collaboration among researchers interested in the immunology and microbiology of the oral cavity, particularly as related to oral diseases (dental caries and periodontal disease). The OIMRG is currently comprised of 180? investigators representing forty-eight universities, research centers, and commercial organizations in the U.S. and abroad.
The OIMRG convenes annually for a meeting that consists of three scientific sessions, each focusing on a distinct area of oral immunology and microbiology. It is primarily, but not exclusively, through the annual meeting that the objectives of the OIMRG are achieved. These objectives include the following:
To foster interaction and collaboration among scientists interested in oral immunology and microbiology;
To promote information exchange and collaboration between academicians and their colleagues in the private sector who are engaged in basic and clinical studies pertaining to oral health and disease;
To provide a forum through which new independent investigators establish contact with representatives of federal and non-federal agencies which may be potential sources of funding for future studies.
About the Annual Meeting
The annual meeting of the OIMRG is also known as the Mark Wilson Conference, named in honor of its founder the late Mark Wilson, 1950–2000. The meeting is consistently held over a long weekend during late January or early February. The 24th annual meeting of the OIMRG is scheduled for February 7–10, 2014 at the St. Croix Renaissance Carambola Beach Resort & Spa, St. Croix, U.S. Virgin Islands.
The scientific sessions run from 8:00 a.m.–12:00 p.m. Saturday, Sunday, and Monday. This year's topics are:
Saturday: Host Response to Oral Pathogens
Sunday: Pathogenic Mechanisms Utilized by Oral Pathogens
Monday: Microbial & Host Factors in Disease
Each session begins with a keynote address by an invited lecturer. Small group breakout sessions for continuing scientific discussions from the morning are held in the afternoons.
The meeting starts on a Friday evening with a reception. Breakfast is served prior to each session. A dinner banquet is held on Sunday evening. All meals (reception, three breakfasts, and dinner banquet) are included in the registration fee and registrants are welcome to bring one guest to each meal. Additional guests are welcome at an additional charge, which must be paid at the time of conference registration.
Meeting director: Ann Progulske-Fox, Ph.D.